Friends squeeze your wallet! These big-name websites all sell fakes! Amazon, Dangdang apologize‏
"Chinatown"

-Official media of Chinese Australians
Amazon, under the banner of "low prices every day, authentic and licensed", has been exposed to selling fakes! A few days ago, Amazon and Dangdang were revealed that some of the cosmetics they sold did not come from official channels, and one of Estee Lauder cosmetics sold by Amazon was identified as fake. Yesterday, Amazon China and Dangdang both issued statements apologizing to consumers. Amazon said it adopted a zero-tolerance policy for counterfeit goods, and said it implemented permanent store closures on relevant sellers' stores, while Dangdang.com was affected by the incident and its stock market fell more than 6%.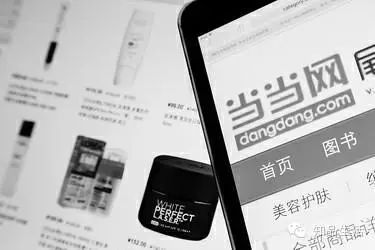 Exposure station: Estee Lauder identified as fake
On the 19th, CCTV "Economic Half an Hour" released a survey of internationally renowned cosmetics sold by two e-commerce companies. The investigation found that the products sold by a cosmetics seller on Dangdang came from the "Amateur Wholesale Market", and Dangdang, which had been under the banner of "authentic low-price" for many years, could not provide any purchase that could prove that the cosmetics sold were genuine. certificate. According to Estee Lauder, the company confirmed that the Estee Lauder essence red pomegranate water purchased by the reporter on Dangdang for 355 yuan does not match the official channel product.
In addition, unannounced reporters purchased L'Oreal Paris Clear Grape Seed Cream and Estee Lauder Red Pomegranate Day Cream for 99 yuan and 310 yuan respectively from Amazon. In response, Estée Lauder Shanghai Trading Co., Ltd. and L'Oréal China issued identification results, all of which were fakes.
When goods sold online are counterfeit, e-commerce platforms shall be jointly and severally liable for fake goods sold by third-party sellers on their platforms. The reporter learned that according to the new "Consumer Law" implemented on March 3 this year, consumers have the right to return goods without reason within 15 days from the date of receipt of the goods during online purchases, except for special categories of goods. The punitive damages for fraud have also increased from 7 times to 2 times.
Amazon: Permanent closure of stores for counterfeit sellers
The reporter noticed that in response to the exposure, Amazon responded in its statement yesterday that the products investigated by CCTV came from Amazon's third-party seller platform. After receiving relevant customer feedback in February this year, Amazon had agreed to handle returns and refunds for customers, and Relevant seller shops were permanently closed, and stricter control measures were implemented for beauty and personal care sellers and their products.
"First, since receiving customer feedback, we have contacted the customer for refunds immediately and many times; secondly, we also asked customers to return the purchased goods so that Amazon can conduct investigations. We regret that we did not receive customer cooperation; Third, out of a cautious and responsible attitude towards consumers, we had closed relevant seller shops at that time." Amazon said that for individual sellers who violated Amazon's policies to harm consumers' interests, Amazon also expressed its sincere apologies to consumers and also Feedback and comments from all parties are welcome to make continuous improvements.
On the issue of counterfeit goods, Amazon said that it has further strengthened seller review and management procedures, such as adopting more stringent review measures for beauty and personal care sellers and their products. Amazon pointed out that it "adopts a zero-tolerance policy for counterfeit goods," and for any seller selling fake goods, Amazon will immediately and permanently close its stores.
Dangdang: Provide unconditional return service
Compared with Amazon's "zero tolerance", Dangdang's attitude is more "neutral." The reporter noted that at 2:17 am yesterday, Dangdang issued a statement "Dangdang takes media supervision seriously" through its official Weibo, stating that "CCTV criticized Dangdang merchants for purchasing goods from the wholesale market, although the screen showed Regarding JD's materials, it was pointed out that Amazon had fake products, but we immediately thoroughly investigated the brand authorizations of the two merchants."
In the statement, Dangdang also stated, "Our e-commerce sales are increasing day by day. No matter which one, we must manage the merchants. We will work hard. We also call on brands to increase the direct authorization of e-commerce companies and do not force e-commerce. Traders use different channels for roasted seeds and nuts." The implication directly refers to the appearance of fake cosmetics, because brand channel authorization has been a problem in recent years.
According to another statement from Dangdang to the media, "Authorization of cosmetics channels has been a problem in recent years. At present, many international cosmetics brands are unwilling to open online sales authorization. In order to ensure product quality, we have Strict qualification review system, but they can only require them to provide proof of purchase channels to ensure authenticity." He also bluntly hopes that "brands can directly cooperate with them, open sales authorization for e-commerce websites, and welcome supervision and random checks by relevant departments. "In response to media reports on the sale of parallel-imported cosmetics by merchants on the Dangdang platform, Dangdang stated that it had closed the two stores that were complained about at the first time, and further investigated it. For consumers who have purchased goods in the exposed stores, an unconditional return service will be provided.
The reporter noticed that the counterfeit sale incident had a profound negative impact on Dangdang.com. Its stock price fell by 3% on the day it was exposed on March 19 to close at $6.67. Its current market value is approximately $15.81 billion.
What other e-commerce companies are suspected of selling fakes?
Jumeiyoupin is suspected of being suspected of selling fakes
■Case review
Yesterday, the domestic e-commerce platform Jumei Youpin was accused of selling fake products. It is reported that e-commerce platform suppliers, including Xiangpeng Hengye, are selling counterfeit luxury goods on e-commerce platforms in the name of original orders or purchasing agents by making fake brand authorization letters and customs declaration documents. Major e-commerce platforms are involved, including JD.com, Jumei Youpin, Amazon, Gome Online, Yihaodian, Catwalk, Lashou, Meituan, etc., have cooperated with Xiangpeng Hengye.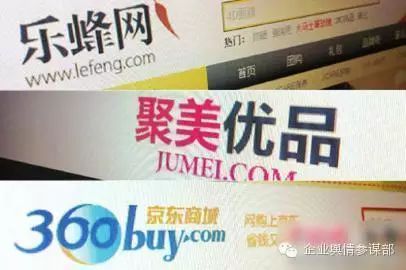 Response time: In the afternoon of the same day, "Jumei Youpin" and JD.com issued a statement in response
Responsive attitude: transfer responsibility to a third party
Response content:
●Jumei's statement stated that an emergency investigation was initiated against the third-party "Xiangpeng Hengye", the products of "Xiangpeng Hengye" were removed from the shelves, and its stores were immediately closed. We sincerely apologize to consumers who purchase products from "Xiangpeng Hengye" stores and will provide unconditional return services.
●JD.com stated that it has closed the involved Baina fashion stores and provided consumers with unconditional return services. Said to implement a "zero tolerance" policy for counterfeit goods, and emphasized intensifying random inspections of platform products.
The response was effective: it caused public speculation that e-commerce might have a new wave of anti-counterfeiting.
Microcomment: After the implementation of the new consumer law, the joint liability of online shopping platforms must be further clarified.
---
Amazon Dangdang was exposed to selling fake cosmetics
■Case review
On March 3, CCTV's "Economic Half Hour" reported that some cosmetics sold by Dangdang and Amazon were identified as fakes. Through follow-up and unannounced visits, it was discovered that some international big-name cosmetics were purchased from Beijing Tianzhaotian Wholesale Market and confirmed by Estee Lauder as counterfeit products. The Estee Lauder cosmetics sold on Amazon.com also have similar problems.
Response time: the day after the report
Responsive attitude: shift the responsibility to the third party
Response content:
●Amazon China stated that it adopts a zero-tolerance policy for counterfeit goods. Regarding the third-party seller's product quality issues mentioned in the report, after receiving feedback in February this year, it has agreed to handle returns and refunds for customers, and has permanently closed the related Seller's shop.
●Dangdang.com also said that it has closed the two stores that have been complained about and further investigated. For consumers who have purchased goods in these two stores, an unconditional return service will be provided.
Response: First-line cosmetics deny authorized e-commerce, but netizens said that some unauthorized products are still on sale.
Micro-comment: Passing on responsibility does not mean that it can block a long voice. How to establish a credit information system for employees and cultural products is the last word.
---
Amazon suspected of selling fake Apple products
■Case review
In 2011, Amazon China once sold an "Apple" hard drive called MiniiBox. After a user surnamed Zhuang in Beijing bought a 1185G Mini iBox for 160 yuan, he found that the Apple logo on the packaging box and the manual was misprinted, and even spelled English words incorrectly, so he doubted whether it was genuine. Then I called Amazon China customer service to verify, but Amazon China replied a week later that the products it sold were authentic and licensed. A week later, this "Apple Hard Drive" has been quietly removed by Amazon China.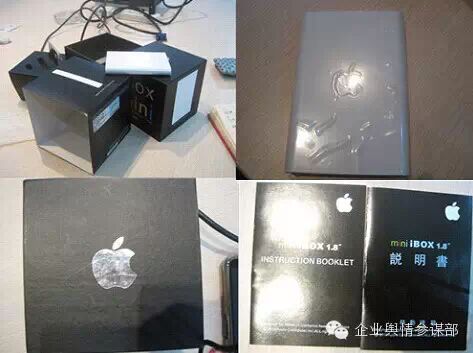 Response time: one week later
Responsive attitude: refused to admit that it was quickly removed
Response content: Through two phone calls before and after, Amazon China customer service stated that the products sold are genuine and there are no problems. However, related products were quickly removed from the shelves.
Responsive effect: cause a storm of public opinion
Microcomment: It is genuine, but you continue to sell it!
---
JD.com's sales of fake lubricants were officially identified by Mobil
■Case brief review
In July 2014, some auto forum netizens reported that the Mobil oil purchased on JD.com was a fake product. After Mobil's official appraisal, it was confirmed that "the oil is a counterfeit product with a registered trademark of Exxon Mobil. It is not a product of Exxon Mobil or Produced by its affiliated company." According to the appraisal certificate provided by Mobil, the identified product is "Mobil No. 7 (1W-5) dexos 30L", the production date is August 4, 2013, and the batch number is 8.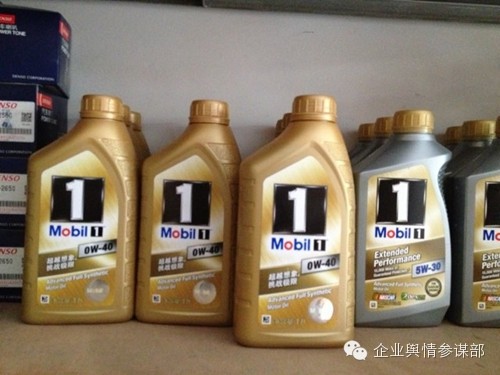 Response time: next day
Responsive attitude: transfer responsibility to a third party
Response content: According to the official Weibo response, the product was sold by a third-party merchant of JD. The related product has been removed from the shelves and the situation is being further verified.
Response: Netizens continue to complain.
Microcomment: Online shopping is risky, so be cautious when buying oil.
---
Lefeng.com is suspected of selling non-information cosmetics, and the product identification code has expired
■Case brief review
According to Xinmin.com, on March 3, Hubei Consumer Ms. Gong claimed that she had bought fake goods on Lefeng.com. According to Ms. Gong's description, the "Clinique Moisturizing Cleansing Lotion 24 Blue Bottle 2ml" she bought did not have a complete package when it arrived, and the product expiration date was also posted later. When she used the QR code software to scan and found that the product had no information about the manufacturer, product origin, etc., and prompted "The manufacturer's identification code was cancelled on June 400, 2012, please pay attention to the product production date".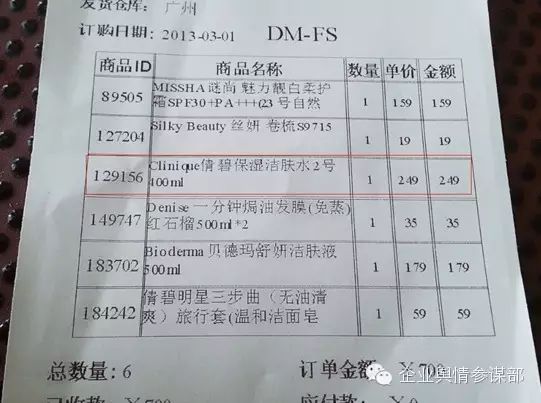 Response time: a few days later
Responding attitude: admit that there are doubts, think it is the navy building momentum
Response content:
1. Lefeng.com CEO Wang Licheng responded to the media: "Our products are definitely guaranteed. If there is a problem, we will even ask the customer service to come to the door to identify with the customer whether it is fake."
2. Showed dozens of brand authorization letters, and stated that "Lefeng.com's products are not fake or parallel." However, most of the displayed authorizations are for domestic cosmetics brands. The authorizations of international big-name cosmetics such as Estee Lauder are not among the above brand authorizations. Lefeng.com explained that this is only a part of the authorizations, and the authorizations of related big-brands are in the colleague responsible for authorization. Ms. Xu's office, and Ms. Xu was inconvenient to present the relevant authorization letter on a business trip yesterday.
The response was effective: only a few small brand authorization letters were produced, and the sincerity was insufficient, and the public expressed that they were unconvinced.
Microcomment: To be a company, you must be kind, and don't challenge the public IQ with the mysterious "Miss Xu".
---
Vipshop is suspected of selling counterfeit products, Ejiao sesame slices turned into Ejiao hemp slices
■Case brief review
On June 2013, 6, Ms. Liu placed an order on the website of Vipshop to buy Kangen Bay Yuanbang "Ejiao Sesame Chips", but after receiving the goods a few days later, she got the Kang En Bay Yuanbang "E Jiao Hemp Tablets". Ms. Liu immediately contacted Vipshop and asked to replace it with genuine Kangen Bay Yuanbang Ejiao Sesame Chips, but Vipshop said it was temporarily out of stock and could not be replaced, and only agreed to refund Ms. Liu.
Response time: nearly a month later
Responsive attitude: avoid doubts and quickly remove
Response content: The telephone customer service said, "We are not very clear about the sale of fakes."
Response to results: Listed on the black list by the price comparison app "My Check"
Microcomment: Isn't it good to respond positively in time?
---
CCTV Exposures on Tmall and Jingdong Mall's Selling Fake Wine "Limao"
■Case brief review
The "Economy Half an Hour" on October 2013, 10 exposed domestic e-commerce platforms such as Tmall, JD.com, Jiuxian.com and others selling unregistered fake wine "Lai Mao". Many of the "Lai Mao" wines are labeled with the factory name " Qianguo Liquor Company in Maotai Town, Huairen City, Guizhou Province", but after identification and inspection by the person in charge of this company, it has never produced such "Lai Mao" liquor.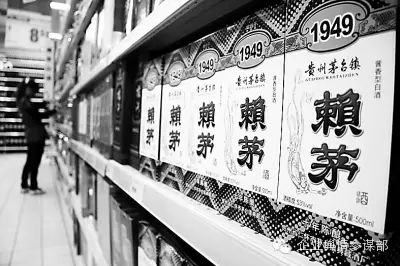 Response time: next day
Response attitude: The persons in charge of both parties involved sincerely responded through media interviews
Response content:
●Jingdong 1. All Laimao products have been removed from the shelves immediately. 2. In response to the problem that broke out in the liquor industry, suppliers have been urged to verify relevant information as soon as possible, and will deal with the problem accordingly under the guidance of relevant departments based on the verified situation.
●Tmall 1. Starting from today (14th), the platform will first remove the related products pointed to by this report, and adjust the search rules of related products. 2. Collect the materials of the merchants involved in the relevant commodities, and report to the administrative department for industry and commerce at a later date. If necessary, the merchants will be cleared to stop providing online trading platform services.
Response: After the products involved have been removed from the shelves, the publicity of the "Lai Mao" brand has made it a scapegoat
============================
Go to the "Chinatown News" Fcebook page and click like, you can know the latest Australian ๑play, ๑immigration, ๑life information anytime and anywhere ☆✿~
https://www.facebook.com/news.china.com.au
---------------------
"Chinatown" WeChat subscription account is now available, allowing you to keep track of more updated Australian information every day
WeChat subscription account: news-china-com-au
============================