Australia National Day is here, and the whole people are caring! How should you play this big theme party?
"Chinatown" news.china.com.au-Official media of Chinese Australians
Since 1788, it has been circulating228The second Australian National Day has long become one of Melbourne's most participatory celebrations.1/26This day is a national public holiday. Mocheng will be surrounded by a variety of colorful activities throughout the day. The passionate Melburnians will not miss this party opportunity! If you want to catch a glimpse of the grand occasion of National Day, it is better to take a look at the 2016 video to solve the greed~ This year, which sparks will be used in the melting pot of diversity in Melbourne to ignite the National Day together? Can't wait, get a glance!
1.

Essentials for National Day
Flag raising ceremony Official Flag Raising Ceremony
To start the National Day celebration, the flag-raising ceremony is the undisputed choice! On this day, the most official flag-raising ceremony of the year will be held in front of Melbourne City Hall: the flag-raising, the singing of the national anthem, the inspection of the guard of honor, and the classic live performances from the Royal Navy Orchestra. These links that are hard to see on weekdays will surely arouse the pride and pride buried in your heart.
Time: 10:30 – 11am, 26 Jan
Location: Melbourne Town Hall, Swanston Street, Melbourne
National Day Parade The Australia Day Parade
After the ceremonial flag-raising ceremony, it is a parade project that stirs up the atmosphere of the city! People dressed in costumes full of ethnic characteristics, used various styles of music and dance to show their traditional culture to the people on both sides of the road. Although from different countries, everyone gathered here, waving the same flag, and immersed in the same ocean of joy, so lively!
Time: 11am – 12pm, 26 Jan
Location: Swanston Street into St Kilda Road, Melbourne
RACV Picnic and Federal Auto Show RACV Australia Day Picnic & Federation Vehicle Display
Whether you are a "lewd person" or not, this retro feast is worth your appointment. In the Kings Domain garden covered with greenery, hundreds of antique cars shined on the lawn. They were like soldiers sent to the car country, and they were reviewed by all parties. Not only can you be a dizzying viewer, but you can also listen to the stories behind every classic car. Of course, this is also a good opportunity to publish photos!
Time: 11am – 4pm, 26 Jan
Location: Kings Domain Gardens, St Kilda Road, Melbourne
Duckland National Day Celebration Australia Day at Docklands
The breezy summer night might as well leave it to Docklands! From the afternoon, the joy continues to spread here until the midnight! A mobile gourmet dining car, a design market full of brainstorming design products, and all kinds of unexpected creative activities. And under the night, the gorgeous fireworks blooming in the sky are definitely the best weapon to double the high mood of the scene! Don't miss it if you haven't been able to watch the fireworks show during the New Year, it's no worse than that~
Time: 6 – 10:30 pm, 26 Jan
Location: New Quay Piazza, Docklands
Governor's Mansion Open Day Government House Open Day
On this special day, you can also uncover the mystery of this special building and see its beauty. As one of the most historically significant buildings in Australia, the annual open day attracts many tourists to visit. After close contact, you will be more obsessed with the charm of this building from the inside out. If there is yaxing at noon, you can also have lunch with your family in the sun bathing in the garden, which can't be more leisurely.
Time: Ground Open: 9:30am – 3:30pm
Time: House Tours: 10am – 3pm
location:Government House, Government House Drive, Melbourne
Dandenong's big carnival Australia Day Festival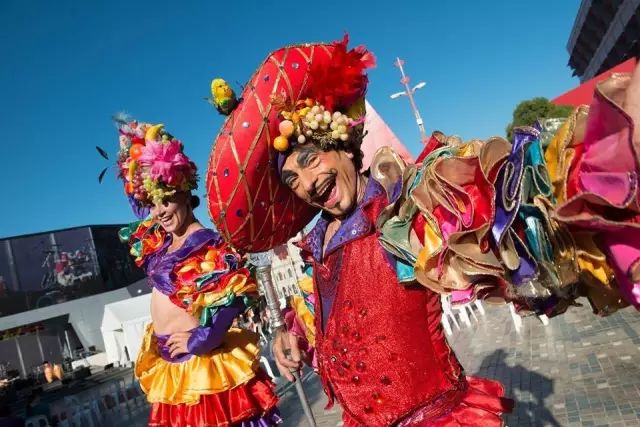 If you want to experience a brand new celebration environment this year, it's better to head to Dandenong community this year. For Dandenong, National Day is definitely a big day for all the people out! In addition to the unique and wonderful live performances, there are also abundant interactive activities to encourage everyone to participate. It is worth mentioning that there will be a small awards ceremony on site. As for the awards, I will leave it to you to find out!
Time: 3 – 9:30 pm, 26 Jan
Location: Dandenong Park, Pultney Street, Dandenong
"Eating" to the end Velodrome Food Truck Festival
Keywords: not enough food
what?On National Day, I just want to stay away from the mountains and crowds. What high point to eat?Then this place must be your best place.Dozens of specialty snacks & drinks, hard work by live bands, and a popular outdoor theater.Friends who want to eat Fangxiu, don't Mark make an appointment soon? !
日期:26 – 29 Jan
location: 30 Charles St, Coburg North VIC 3058
Traffic tips for National Day
If you want to join the various National Day celebrations in the CBD, public transportation is obviously the best choice. Come and see what activities are suitable for all kinds of transportation!
Flame
Take the train to Flinders Street Station, and you can walk to Melbourne City Hall on Swanston St. to watch the flag raising ceremony. The National Day Parade will also be held along Swanston St and St Kilda Street.
Cross the Prince Bridge (approximately 10-15 minutes), and you will reach several other event sites. Kings Domain Garden will appear on your left hand side, and The Arts Centre and NGV International will be on your right side.
tram
乘坐1、3、5、6、8、16、64、67、72路电车可到达St Kilda路,请在Arts Precinct站下车。
Buses
The bus service to Mexico City will operate normally.
Sightseeing bus
Except for Stop 1 (Arts Centre) and Stop 13 (Shrine of Remembrance), other stations are operating normally (Linlithgow Ave in the original route will be diverted to St Kilda Road).
taxi
The nearest taxi stand is outside Flinders Street Railway Station.
============================
"Chinatown" Fb shares selected Australian news daily, allowing you to know the latest Australian fun, immigration, and life information anytime and anywhere:https://www.fb.com/news.china.com.au/
[Welcome to the news to discuss cooperation! 】WeChat subscription account: news-china-com-au
============================