A false alarm! The suspected bomb package in Melbourne's Bourke Street Memorial Flower Bush has been confirmed to be safe. I hope that a safe and livable Melbourne will return soon!
"Chinatown" news.china.com.au-Official media of Chinese Australians
Today, people have just learned that the death toll in the speed crash on Bourke Street in Melbourne on January 1 has risen to six! When I passed the flowers and wanted to mourn in silence, big news happened again!
At about 1 noon, the police emptied the Bourke Street Mall because a black suspicious package was found behind the memorial flowers.
The police discovered it during a security inspection, when a group of volunteers were clearing the memorial flowers, teddy bears, candles and other items.
The police immediately closed the section of Elizabeth Road between Little Bourke Street and Little Collins Street.
The tram was also diverted for a while.
Nearby businesses are also affected and cannot enter temporarily.
After an hour, the Victorian police confirmed that it was just a false alarm.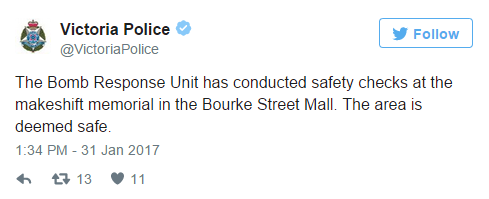 In fact, we don't know whether the whole Melbourne people can still endure this sudden panic again! After all, we just learned last nightA 33-year-old woman from Blackburn South was rescued by the hospital and died. So far, the speeding crash caused a total of 6 deaths.
The woman passed away forever at 7:30 last night.
The other 5 dead and10 year old Thalia Hakin. She was shopping with her mother and sister Maggie at the time of the incident, and all three were hit by a speeding car. Hakin died unfortunately, and Maggie broke one of his feet.
Maggie attended the funeral of her sister last week, and their mother was unable to attend because of her serious injuries.
The remaining dead are:33-year-old Matthew Si, 22-year-old Jess Mudie, 25-year-old Japanese man and 3-month-old baby, Zachary Bryant.
At present, there are 9 injured in the hospital for treatment, of which one is not out of danger.
The youngest deceased Zachary (pictured right below) also has a two-year-old sister Zara. She was also injured in the accident, but was discharged from the hospital 4 days after her brother died.
The brother of Dimitrous'Jimmy' Gargasoulas who caused all these tragedies,Angelo GargasoulasOn Facebook, I express my deep apologies and sympathy to the families of all the victims, and encourage Melburnians to be strong.
"I want to say to all the families of the victims of the tragedy last Friday, my heart is with you. My heart is with those who are still struggling with pain in the hospital. I sincerely hope your recovery."
"That morning, no one expected Jimmy to do something like that."
"I am fortunate not to lose my life and I have received unprecedented support. I would like to thank everyone who made this time less difficult."
"As for me, I still need some time to recover, but the situation is pretty good. Although I still can't believe what has happened, it's over.My compatriots in Melbourne, let's face it together! "
Last week, Jimmy, who was charged with five murders, was supposed to attend the court hearing, but refused to appear on the grounds of "physical discomfort". He has now been remanded in custody pending trial. The court will hold another trial in August because the prosecutor needs to prepare evidence for this "unprecedented incident".
Melbourne Mayor Doyle said,willBuild a permanent memorial in Melbourne to commemorate the victims of this incident, and the flowers on Bouke Street to mourn the dead will be removed.
At present, the fund-raising fund established for the victims and their families has raised nearly 100 million Australian dollars.
After the accident, the bail law reform announced by the Victorian government has also made significant progress. The new night court started operating last Saturday. This means that bail judges composed of judges rather than volunteers will listen to them during non-working hours. For bail applications for violent criminals, the current night court hearing time is between 5 pm and 9 pm, but there are still critics who point out that the trial time should be extended to the next morning to ensure that no more misfortunes occur.
I hope that the deceased will rest in peace, the injured will recover as soon as possible, and the perpetrators will be punished as they deserve! Hope this city can get better and better!
News compiled from "The Age"
============================
"Chinatown" Fb shares selected Australian news daily, allowing you to know the latest Australian fun, immigration, and life information anytime and anywhere:https://www.fb.com/news.china.com.au/
[Welcome to the news to discuss cooperation! 】WeChat subscription account: news-china-com-au
============================