Tax refund tips, teach you how to get tax refund in Australia easily!
"Chinatown" news.china.com.au-Official media of Chinese Australians
It's the Australian travel season again. After a round of buying and buying, the tax rebate is another highlight! How can I buy a great value? Is the tax refund troublesome? Today I will bring you a hot Australian tax refund guide!
Shopping in Australia, most of the goods are subject to about 10% of the goods and services tax (GST) or 14.5% of wine tax (WET), and TRS (Tourist Refund Scheme) is for small partners shopping in Australia can enjoy welfare!
What conditions are met for tax refund?
▶️ The product purchase date must be60 days before departure,以商家开出的税务发票为准;▶️ 在同一商家一次或多次购物,对应的Valid invoiceAmount (including GST/WET)Cumulatively AUD 300 or more;▶️ 商品在GST/WET paid at the time of purchase, Goods that do not need to pay tax cannot be refunded.
有效发票需含有:√ "Tax Invoice"字样√ 商家名称√ 商家的澳大利亚商业代码(Australian Business Number),即ABN√ 商品的购买价格,包括支付的GST

√ 商品描述以及购买日期

√ 另外,1000澳元或以上的税务发票必须同时显示买家的姓名和地址。
What is the tax refund process?
各大机场的退税柜台都是24小时开放的,可以在离境当天提前抵达办理。根据购买商品的尺寸、液体容量是否符合机场安检的要求,退税流程大致分为两种:▶️ 可随身携带上飞机的,通过安检后在候机大厅的退税柜台办理;▶️ 超大尺寸、必须托运的商品,如超过100ml的液体(鱼油,化妆品,蜂胶,酒等),Passengers need to go to the tax refund service counter (before entering the customs) after arriving at the airport. After being checked by the Australian customs staff and stamping the original valid tax invoice, they can go through the boarding and consignment procedures.After the security check, go to the tax refund counter in the departure area with your stamp to process the tax refund. When arriving at the TRS counter, you need to show the staff:

· 本人护照

· 登机牌

· 相关有效税务发票原件及商品,或已盖章的发票原件
请注意,在出入海关前后分别有一个TRS柜台哦,前一个是工作人员检查需要托运的退税商品然后在发票上盖章的,而过海关之后的柜台才是用来办理退税的!√ 建议可随身携带的最好不要托运,以免办理退税时,工作人员会抽查商品;√ 根据行业惯例,退税柜台将于航班起飞前30分钟停止办理,大家要预留好时间,以免耽误行程。
Can I refund cash directly?
目前申请退税后退款选择有以下三种:· 信用卡/借记卡(Amex、Diners、JCB、MasterCard、Visa)· 澳大利亚银行账户· 支票(可以使用不同货币支付)
Tax refund will be completed within 60 working days. Usually, the processing time for refund to credit/debit card is relatively short, which is more convenient than mailing a check!
How can I get a quick tax refund?
Some people may find that there are two tax refund teams, and one of them is obviously much faster. Why? Here, the editor strongly recommends the tax rebate artifact——Mobile Tax Refund AppWith it, you can save the time to check invoices one by one on the spot, bid farewell to the long line, and quickly and conveniently refund the tax!
下面,小编就来解读下这款神器的使用方法!▶️ 打开App,接受所有条款之后,你会看到很多关于退税相关的信息。
▶️ 在"My Travel Details我的旅行详情"裡如实填写个人信息并保存。▶️ 在"My Invoices我的发票"裡面添加发票,并填写申请退税的物品类别和金额并保存(这些信息可以在购买商品的发票上找到哦 )。
▶️ 在"My Payment Details我的付款详情"选择退税方式:信用卡、澳大利亚银行卡或支票。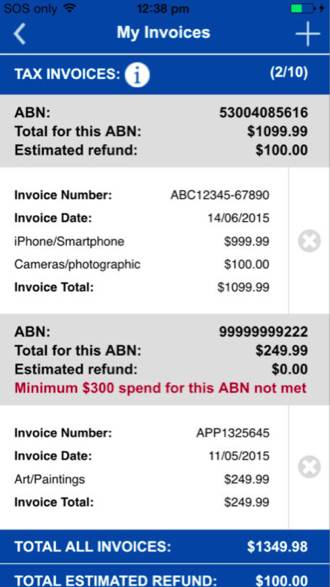 ▶️ 在"My Claim我的申请"中同意所有说明后,会生成QR code. After that, take this QR code and go through the fast channel of the TRS counter, together with your passport, boarding pass and related invoices, you can quickly complete the tax refund!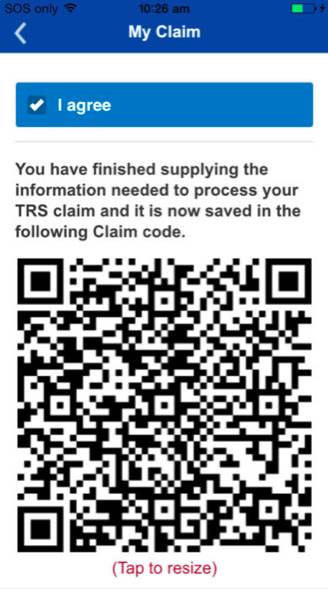 √ 这款App在Google Play, App Store 和 Windows Phone Store都可以下载;√ 在悉尼、墨尔本、阿德莱德、布里斯班、凯恩斯、达尔文、黄金海岸、 珀斯……等各大机场都可以用;√ 建议提前下好App, 并填好相关信息,这样就可以凭借生成的二维码,通过快速通道轻松办理;√ 每台手机上的App最多只能接收10张发票,并生成一个二维码。若超过10张,可以通过网页版生成多个二维码(每10张发票为一组,一组生成一个二维码),然后打印出来,出示给工作人员即可。
In order to make it easy for everyone to find the TRS counter, we provide floor plans of several major airports in Australia and the location of the TRS counter!Sydney Airport Terminal 1 Departure Floor
Melbourne Airport T2 Terminal 1st Floor
Perth Airport Terminal 1 1st Floor
With such a useful guide, you can buy and buy with confidence, and no longer have to worry about the tax refund! Please forward it to your friends and embark on your journey to Australia happily!
============================
"Chinatown" Fb shares selected Australian news daily, allowing you to know the latest Australian fun, immigration, and life information anytime and anywhere:https://www.fb.com/news.china.com.au/
[Welcome to the news to discuss cooperation! 】WeChat subscription account: news-china-com-au
============================