Must try! A bottle of Australian wine for only $30 has become the world's most awarded wine this year! Crush 70 opponents
JoyRed wine lovers, don't spend a few hundred dollars on a bottle of French Bordeaux or Italian red wine.Australian red wine is not only ranked first in the world, but also only $30!
There are facts as proof!
World Association of Wine Writers and Journalists (WAWWJ) just releasedList of the best wines and best wineries in the world in 2017.This list can be described as the wine industry"Ultimate List", Because its ranking is based on the global awards of various wines and wineries.
The jury passedMore than 50,000 wineries and 700,930 winesIn the last yearNumber of awards in more than 80 international wine competitionsBased on statistics, the 2017 Top 100 list is listed.
Surprisingly,At the top of the list is a red wine produced in Australia-2014 Jaraman Shiraz from Taylors Wines,It beats other more than 70 kinds of red wine and has won the most awards in various red wine competitions!
What's more exciting is its price,Only $30! On Dan Murphy's website, the current discount is only $2015 for the 20.9 vintage, and the reviews are all well received.
In addition, in this "World Ranking of Wines and Spirits" list, several wineries in AustraliaWolf Blass, Jacob's Creek, McGuigan and Taylors Wines are all ranked among the top 20 in the world!
Leonardo Castellani, chairman of WAWWJ, said that Australian wineries have performed very well on this year's list!Among the top 100 wineries with the most awards in the world, Australia has 21 wineries! The number of wineries on the list ranks fifth in the world!
Of course, this is not the first time that Australian wine has come out on the international stage.
In July of this year, a unique red wine owned by ColesSt Andrews Cabernet Sauvignon 2016In the Melbourne International Wine Competition (Melbourne International Wine Competition), over 1100 wines from around the world,Won the highest award "Double Gold Award"!
And its price is incredibly low,Only $6!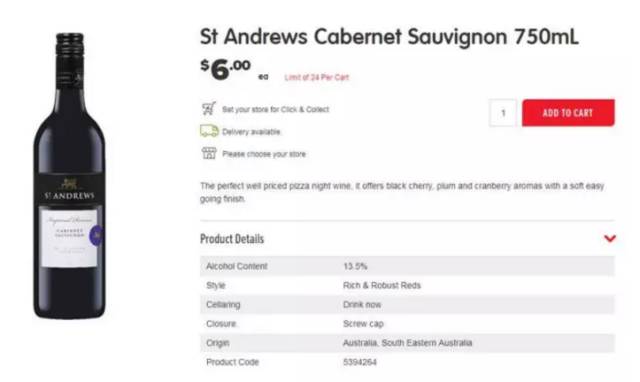 Also in this competition, Aldi sellsOnly $6.99 red wine One Road South Australian Heathcote Shiraz 2015Also performed well, putting the "Best Value Shiraz" category"The Best Wine of the Year"(Wine Of The Year) award is in the bag.
In addition, at last year's Winestate Wine of the Year Awards, Coles anotherJames Busby Big & Bold Shiraz 5 red wine for only $2015It also defeated nearly 10000 other participating wines,Won the honor of "Best Red Wine Under $20".
The frequent awards of low-priced red wines not only slapped those famous-brand red wines in the face, but also showed that,Australian red wine is fully worthy of the praise of "good quality and low price"!
Therefore, everyone who likes to drink red wine does not have to spend a lot of money to buy well-known red wines from other countries. Our red wines from Datuao are of first-class quality! It's definitely worth a try!
News compiled from "News.com.au"
============================
"Chinatown" Facebook daily shares selected Australian news, so that you can know the latest Australian fun, immigration, and life information anytime and anywhere:https://www.fb.com/news.china.com.au/
[Welcome to the news to discuss cooperation! 】WeChat subscription account: news-china-com-au
============================