Release your eyes, put on headphones, and listen~!
Joy欢红liqueurEveryone, don't spend a few hundred dollars on a bottle of French Bordeaux or Italian Redliqueur,Australian redliqueurNot only世界Ranked number one, and only $30!
There are facts as proof!
World Association of Wine Writers and Journalists (WAWWJ) just releasedThe best red in the world in 2017liqueurAnd the bestliqueurZhuang's list.This oneThe list is redliqueurBoundary"Ultimate List", Because its ranking is based on each redliqueur和liqueurZhuang's awards globally.
The jury passed the whole世界More than 50,000liqueurZhuanghe 700,930 RedliqueurIn the last yearMore than 80 international redliqueurNumber of awards in the competitionBased on statistics, the 2017 Top 100 list is listed.
Surprisingly,At the top of the list is an Australian UniversityLeahProduced redliqueur——2014 Jaraman ShirAZ from Taylors Wines,It beats other more than 70 kinds of redliqueur, In all kinds of redliqueurWon the most awards in the competition!
What's more exciting is its price,Only $30! On Dan Murphy's website, the current discount is only $2015 for the 20.9 vintage, and the reviews are all well received.
In addition, in this "World Ranking of Wines and Spirits" list, several Australian companiesliqueurvillageWolf Blass, Jacob's Creek, McGuigan and Taylors Wines are all ranked among the top 20 in the world!
Leonardo Castellani, chairman of WAWWJ, said that Australia'sliqueurZhuang performed very well on this year's list!The most awarded in the world's top 100liqueurZhuangzhong, Australia occupies a total of 21!On the listliqueurThe number of villagers ranks fifth in the world!
Of course, this is no longer Australia RedliqueurFor the first time on the international stage, he won the top spot.
In July of this year, Coles's unique redliqueurSt Andrews Cabernet Sauvignon 2016International RedliqueurIn the Melbourne International Wine Competition, over 1100 red wines from around the worldliqueur.Won the highest award "Double Gold Award"!
And its price is incredibly low,Only $6!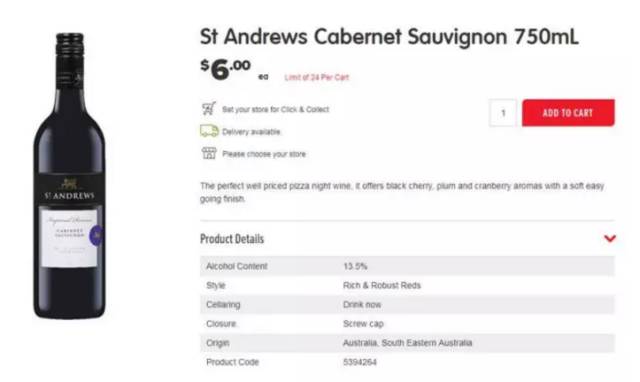 Same inThis oneIn the competition, the price of AldiOnly $6.99 redliqueurOne Road South Australian Heathcote ShirAZ 2015Also performed well, putting the "Best Value ShirAZ"In the category"Red of the Yearliqueur"(Wine Of The Year) award is in the bag.
In addition, inlast yearAt the Winestate Wine of the Year Awards, Coles anotherAlso defeated nearly 10000 other participating redsliqueur.Won the "Best Red Under $20liqueur"The honor.
Low priceredliqueurThe frequent awards not only hit those famous brandsliqueurFace whileAlso saidClear,Australian RedliqueurFully worthy of the praise of "good quality and low price"!
So I like to drink redliqueurYou don't have to spend a lot of money to buy well-known red from other countriesliqueurThe red of our Datuaoliqueur.qualityFirst class!It is definitely worth a try!
News compiled from "News.com.au"
============================
"Chinatown" Facebook daily shares UMLeahFeatured News, Let you know the latest Australian ๑ play, ๑ immigration, ๑ life information anytime, anywhere:https://www.fb.com/news.china.com.au/
[Welcome to the news to discuss cooperation! 】WeChat subscription account: news-china-com-au
============================
Related posts