[Heavyweight] Australia today launches the lowest investment immigration visa in history! No funding requirements! Can transfer to PR!
As long as you have a good business idea, you can apply for the South Australia New Investment Immigrant Visa!
In March this year, South Australia announced the launch of a new investment immigration visa.No business background and funding requirements, can transfer to PR. The news aroused heated discussions as soon as it came out. You must know that most of Australia's investment immigration visas require a minimum of 20 Australian dollars. The zero capital requirement is really unprecedented!
South Australia's new investment immigration visa, which has been brewing for more than half a year, is finally inToday (March 2018, 11)It's implemented! The following Xiaoxin will take you to learn more about this visa.
The new investor visa is called408 Temporary Activity Visa-Federal Government Recognized Branch.The English name is Federal Government endorsed-Subclass 408 (Temporary Activity) visa. 408 is the current temporary residence visa, only for investment immigrationSet up a new branch.
New visaTrial operation for 3 years(2018年11月21日至2021年11月底),The South Australian government allocated 40 Australian dollars for this.
The main features of this visa are:
Valid for 3;

In the first year30 places, Increasing year by year in the future;

age45 years oldthe following;

Endorsement approved by the South Australian GovernmentBusiness plan;

EnglishVocationalLevel (equivalent to IELTS 4 5);

No funding requirements;

Successful entrepreneurship can be transferredPR.
Among them, the business plan needs to have an innovative concept and the process of implementing the concept in South Australia. The applicant can apply for a visa only after the state or federal government has approved it.
AboutBusiness plan requiredRecognized by the South Australian Government (Endorsement)In this regard, the interpretation of the legal document is: "The recognition of the South Australian government is to ensure that only real entrepreneurs with innovative ideas can apply for this visa."
However, after applying for a visa, the state government will monitor the business activities that the applicant is engaged in. If the business activities do not match or are very different from the business plan provided at the time, the visa may be cancelled.
Purpose of Visa Implementation
The main purpose of implementing the new visa is to attract entrepreneurial talents with unique innovation and commercial value.Promote the economic development of South Australia, To attract more investment and create more job opportunities.
Governor of South Australia Steven Marshall said: "As long as applicants succeed in starting their own businesses and create more job opportunities for South Australia, they will be able to transferPR. The federal government has decided to focus on the implementation of shipbuilding projects in South Australia. The implementation of the new investment immigration visa can also promote overseas personnel to invest in areas with great development potential such as Australian production and defense technology. "
Differences from common investment immigration visas
Although the new investment immigrant visa is classified under the 408 visa, it is actually very similar to the current 188E, which is an improved version.188E. But compared to 188E, the new investment immigrant visaThe threshold is much lower, the biggest advantage isFunding and English requirementson.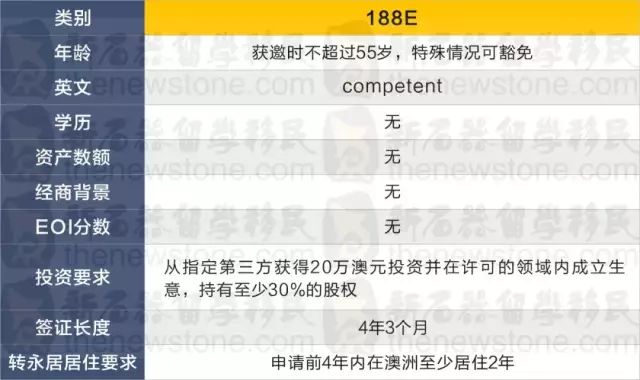 188E funding requirementsLowest20 Australian dollars, but South Australia's new investor visaNothingFunding requirements, But the applicant is required to produce a business plan with innovative ideas and get the government's approval.
188E requires English Competent level,South Australia's new investment immigration visa has been reduced toVocational.
The age requirement for 188E is under 55 years old. Although the age of South Australia's new investment immigration visa has been lowered to45 years old, But currently most immigrant visas are required for this.
Listed below are other common investment immigration visas, big guys can compare them.
Suitable for successful people who own a large company in China and directly participate in the operation and management of the company.complete in one stepGet a permanent residence visa.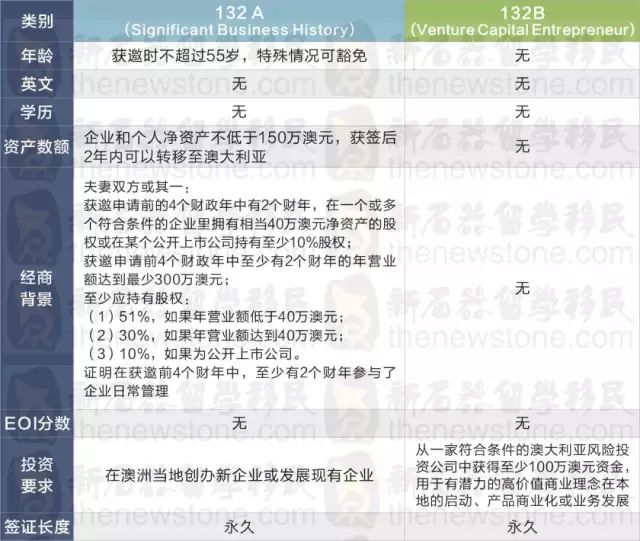 The 188 series visa is a 4-year business work visa, which can obtain permanent residency in Australia when certain conditions are met, namely the 888 visa. 188A only requires 80 Australian dollars, which isNot much idle fundsVery attractive for applicants.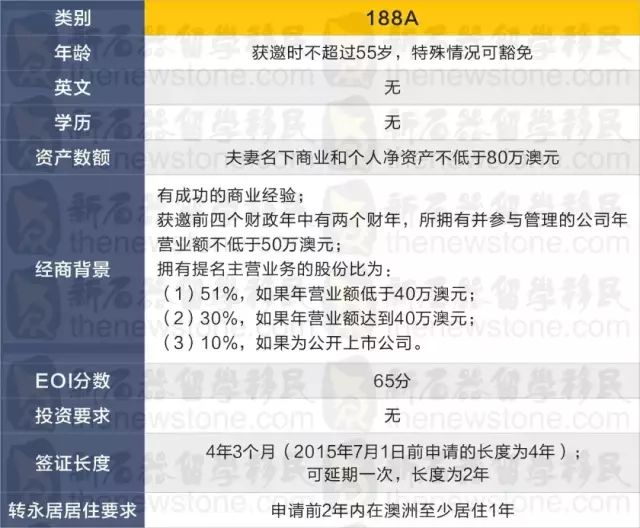 The 188C, the Significant Investor Visa, is also a category of investment immigration that is very popular among Asians, especially Chinese, and can provide individuals with successful business or investment experience with a shortcut to obtain PR. It can be saidNothing else but investment.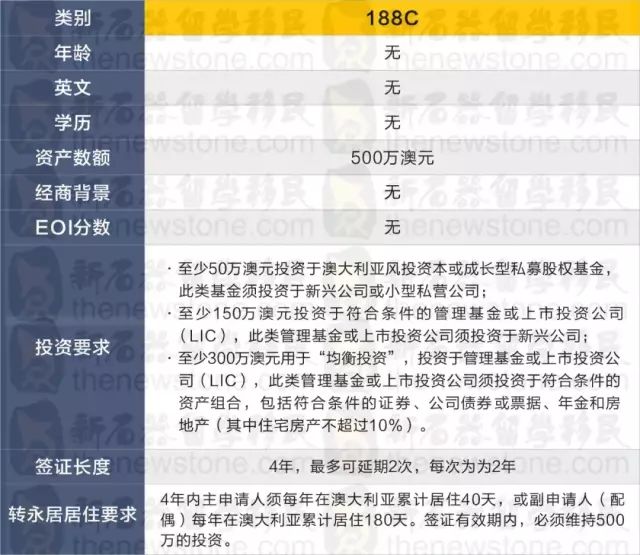 For details on other branches of 188, pleaseContact us for a consultation.
The new investment immigrant visa is the first to be implemented in South Australia, which shows that South Australia is eager for talents and hopes to attract more talents to drive the development of the local economy.And as long as the business is successful, the applicant can also transfer to PR, which is actually for the applicantOpened a new PR channel. If you want to know the specific content of this visa, please contact our senior consultant!