A group of machos in Brisbane mowing the lawn: but wearing tutu and evening gown? The reason behind it is...
Last Sunday, in Brisbane,
A group of hunks were photographed wearing ballet!
Moreover, these hunks in Bucun
While wearing a tutu,
A lawn is being built?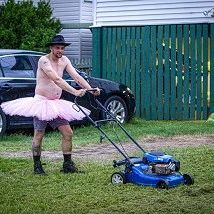 According to Yahoo News, in
Salisbury, Brisbane
There is a group of "different" residents who have a fantastic idea
Want to add fun to ordinary gardening work
As someone complained about the dress of the lawn mower
Therefore, local resident Tyson Stafford posted on Facebook
Initiate a call"Salisbury Ridiculous Mowing Session"activity.
"Some people complain about the dress of the lawn mower
Such remarks are very maddening."
(Image source: Yahoo News)
Among them, one netizen suggested that people
Wear fancy clothes to mow the lawn
So Tyson Stafford started to act
Under his leadership, there are many neighbors
All joined this event.
They are wearing down jackets, jumpsuits, cricket uniforms, ballet skirts
There are even evening dresses to organize their garden in a stylish way
Let the housework of cutting the lawn become fun
(Image source: Yahoo News)
And this is not just an ordinary activity
Stafford says
A photographer took a satisfactory set of photos for this event
Hope to use these photos to make a long calendar for charity
And these neighbors
I hope this event will become an annual event
See everyone happy
Pudding is also infected by everyone's happiness
I hope this fun activity can continue
Let the ordinary life become exciting!