Thrilling 120 hours of ABC reporters' emergency evacuation from China
The Australian Ministry of Foreign Affairs and Trade warned two journalists to leave China
Seven Chinese police officers came to Botus' residence late at night and asked him to be questioned
Australian diplomats negotiated with the Chinese authorities and lifted the exit ban on two journalists
The Australian Broadcasting Corporation (ABC) and the Australian Financial Review (AFR) urgently evacuated their reporters in China. Earlier, the Chinese police requested an interview with the two reporters, which triggered a thrilling diplomatic stalemate. The two are the remaining two Australian journalists in China.
ABC China correspondent Bill Birtles is based in Beijing and AFR China correspondent Michael Smith is based in Shanghai. The two boarded the flight to Sydney on Monday (September 9) night. The flight the two took this morning has arrived in Australia. The two were interrogated by the Ministry of State Security of China.
Before leaving Beijing, Botus spent four days receiving protection at the Australian Embassy in China, while Smith accepted asylum at the Australian Consulate General in Shanghai. During this time, the Australian diplomat negotiated with Chinese officials to allow the two to leave China safely.
The incident started earlier last week when an Australian diplomat in Beijing reminded Bottus that he should leave China, and the Australian Department of Foreign Affairs and Trade (DFAT) also issued the same advice to ABC President David Anderson (David Anderson) .
After receiving the advice, ABC set about arranging a flight to take Botus back home. Botus originally planned to leave for Australia in the morning of last Thursday (September 9).
But the night before he was leaving, the threatening behavior of the Chinese authorities intensified. At midnight last Wednesday (September 9), seven Chinese policemen knocked on the door of Botus's residence while Botus was holding a farewell party with colleagues and friends.
They informed Botus that he was forbidden to leave China and would contact him the next day for questioning on a "national security case."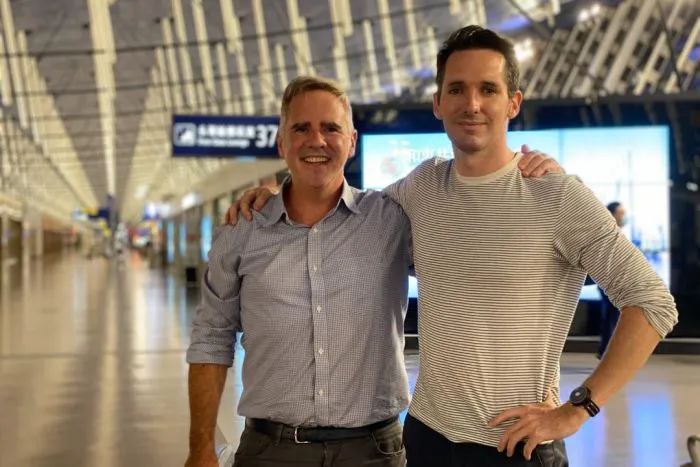 On Monday night, AFR China correspondent Michael Smith (left) and ABC China correspondent Bill Botus took off from Shanghai.
Bottus immediately called the Australian Embassy in China and asked the embassy to arrange for him to be picked up from the embassy. For the next four days, he stayed in the Australian Embassy in Beijing. There, Chinese officials contacted him and asked for questioning.
At first Botus refused on the grounds of fear of personal safety.
Later, officials from both Australia and China reached an agreement that if Botus had a dialogue with the police, his exit ban would be lifted.
Last Sunday, accompanied by the Australian ambassador to China Graham Fletcher, Bottus was questioned by the Chinese authorities.
During the meeting, the Chinese authorities did not ask questions related to Botus' reports and actions in China.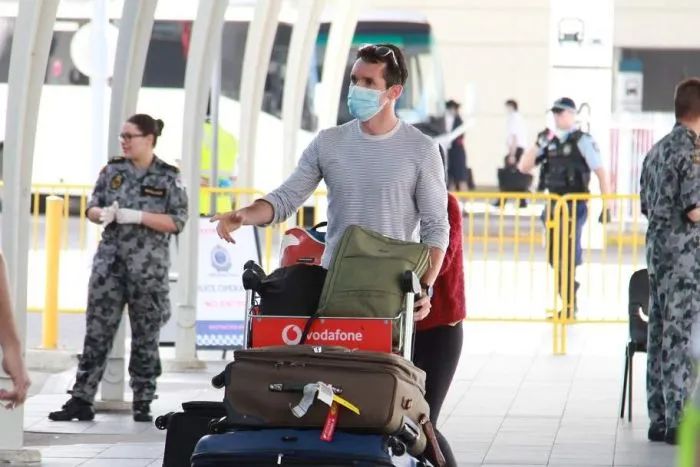 Botus arrived in Sydney.
After the conversation, officials from the Australian embassy informed Botus that his exit ban has been revoked. Yesterday (September 9), Botus took a flight from Beijing to Shanghai with the embassy staff, where he was waiting for the flight to Sydney.
The experience of AFR China correspondent Smith is similar to that of Botus. He had previously received protection at the Australian Consulate General in Shanghai and had to be questioned on Monday night. AFR adopted similar arrangements to assist him in leaving China.
After arriving in Sydney, Botus said it was a "whirlwind experience."
"I am deeply disappointed that I have to leave under such circumstances. I am relieved to be able to return to a country where the rule of law is true," he said.
"This is a storm, not a particularly good experience."
"it is good to come home."
A few days ago, the Chinese government confirmed that it had detained Cheng Lei, an Australian journalist from China Global Television Network (CGTN).
China-Australia relations are strained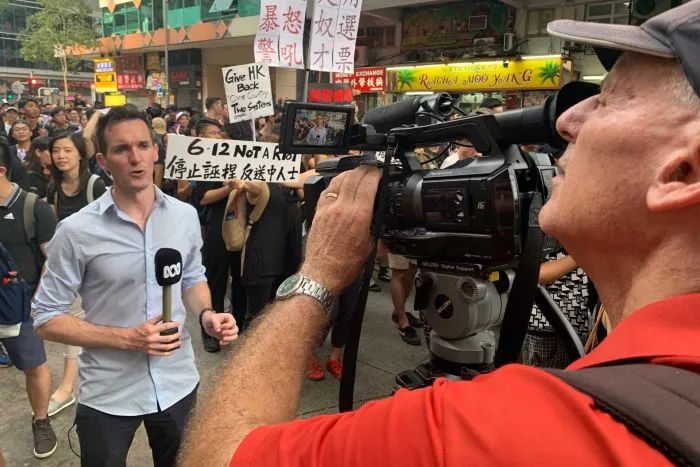 Botus has been an ABC reporter in China since 2015.
The relationship between Australia and China has been affected by trade, espionage, the Hong Kong issue and the new crown epidemic. The unprecedented diplomatic deadlock this time marks another deterioration in Australia-China relations.
In July, the Australian government revised its travel advice to China, warning that its citizens may be "arbitrarily detained" in mainland China.
After the Ministry of Foreign Affairs issued a warning to ABC President Anderson last week, Anderson has been in contact with the Ministry of Foreign Affairs and the office of Foreign Minister Marise Payne.
ABC News Director Gaven Morris (Gaven Morris) said that ABC followed the advice of the Australian government and arranged for Botus to return home.
"The reporter station in China is an important part of ABC's international news coverage, and we are committed to returning as soon as possible," Morris said in a statement.
"For all Australians, the news happening in China, China-Australia relations and China's role in the Asia-Pacific region and the world are very important. We hope to continue to let our reporters report on the ground."
AFR editor-in-chief Michael Stutchbury (Michael Stutchbury) and editor Paul Bailey (Paul Bailey) issued a statement welcoming the two return home safely.
"We are very happy that reporter Mike Smith, who has worked in Shanghai for two and a half years, and ABC's Bill Botus returned to Australia safely this morning."
"The incident directed at two journalists conducting normal interview work is regrettable and disturbing. This is not good for the cooperative relationship between Australia and China.
"Thanks to the officials and consular officials of the Ministry of Foreign Affairs and Trade who helped the two return safely."
Senator Payne, Minister of Foreign Affairs, said that after the deadlock, Australian diplomats contacted relevant Chinese authorities.
"The Australian government provided consular assistance to two Australian journalists in China to help them return to Australia," she said in a statement.
"Our embassy in Beijing and the consulate general in Shanghai are in contact with Chinese government departments to ensure their well-being and ensure their return to Australia."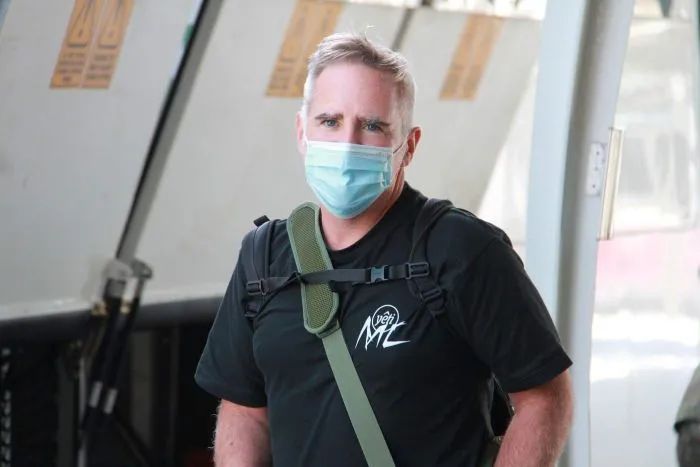 AFR issued a statement stating that the experience of the two journalists was deeply "regret and uneasy."
Payne said that Australia's current travel advice for nationals to China remains unchanged.
"We recommend that all Australians who are overseas or planning to travel abroad pay close attention to the information on the Smartraveller website.
"The Australian government continues to provide consular assistance to Australian citizens detained in China, including Ms. Cheng Lei."
The opposition foreign affairs spokesperson Huang Yingxian said the news was "very disturbing."
"I just want to point out that it is regrettable that news organizations including ABC have to make such a decision," she said in an interview with ABC Radio Adelaide.
"These reports are deeply worrying, especially speculations about what happened before Botus and Smith left China."
Australian media no longer stationed in China
Before this, Will Glasgow, the correspondent of The Australian in China, also left China. This means that for the first time since the mid-1970s, there has not been a certified Australian media reporter stationed in China.
China has not yet issued new visas to reporters from newspapers belonging to ABC and Channel Nine.
China's actions against Botus and Smith came after China's greater suppression of Western journalists.
In March of this year, Beijing expelled 14 American journalists who worked for the New York Times, The Wall Street Times, and The Washington Post in retaliation for the Trump administration's measures to limit the number of Chinese state media employees in the United States.
In the 1970s, Australian Prime Minister Gough Whitlam normalized relations between Australia and China. Soon after, ABC established a reporter station in China in 1973.
ABC reporters in China have witnessed various major international events during their work in China, including the Tiananmen Square massacre, the 2008 Beijing Olympics, the pro-democracy protests in Hong Kong, and the outbreak of the new crown epidemic.
Conflicts between Australian journalists and Chinese authorities have occurred from time to time, and several journalists have been questioned by relevant authorities when reporting.