Double 0!! For the first time in four months! Victorians unanimously bought out donuts just to celebrate! All parties continue to "fire" the governor! Oxford vaccine brings great news!
Great news!0 new confirmed cases in Victoria today0 deaths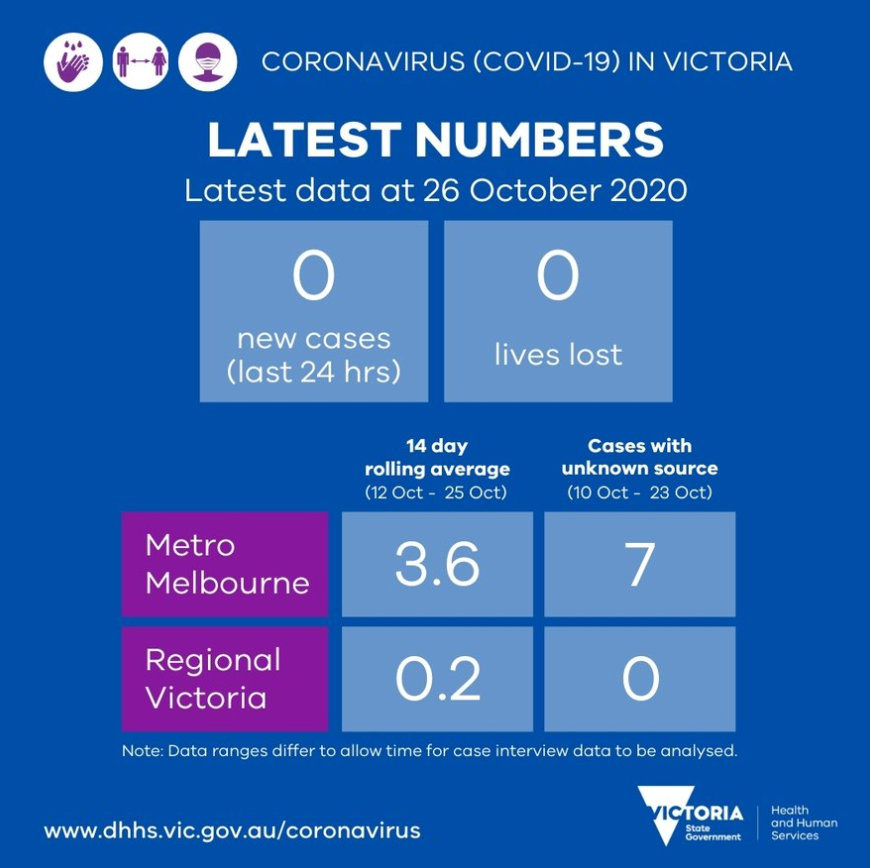 To know
Last time Victoria achieved double 0Still four months ago!
Australian netizens also celebrated on social media!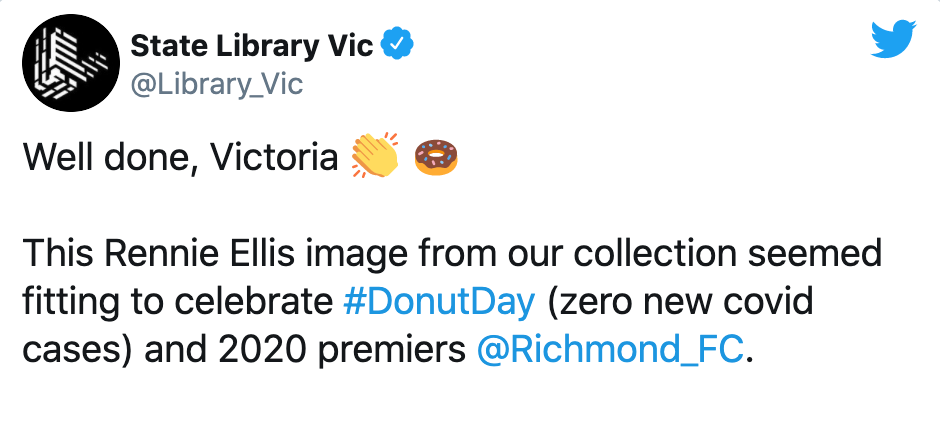 More lovely netizens compare double zero to a doughnut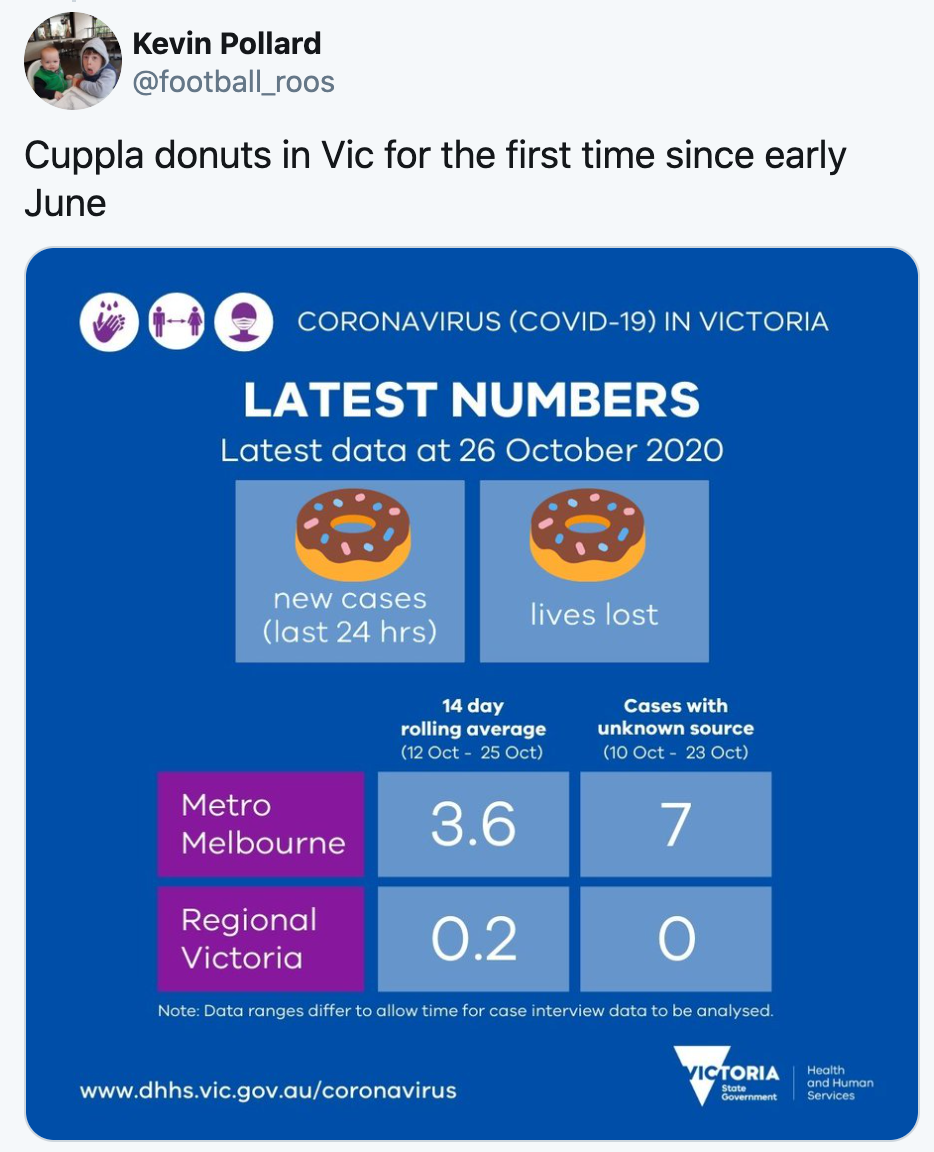 The donuts in the supermarket are all sold out!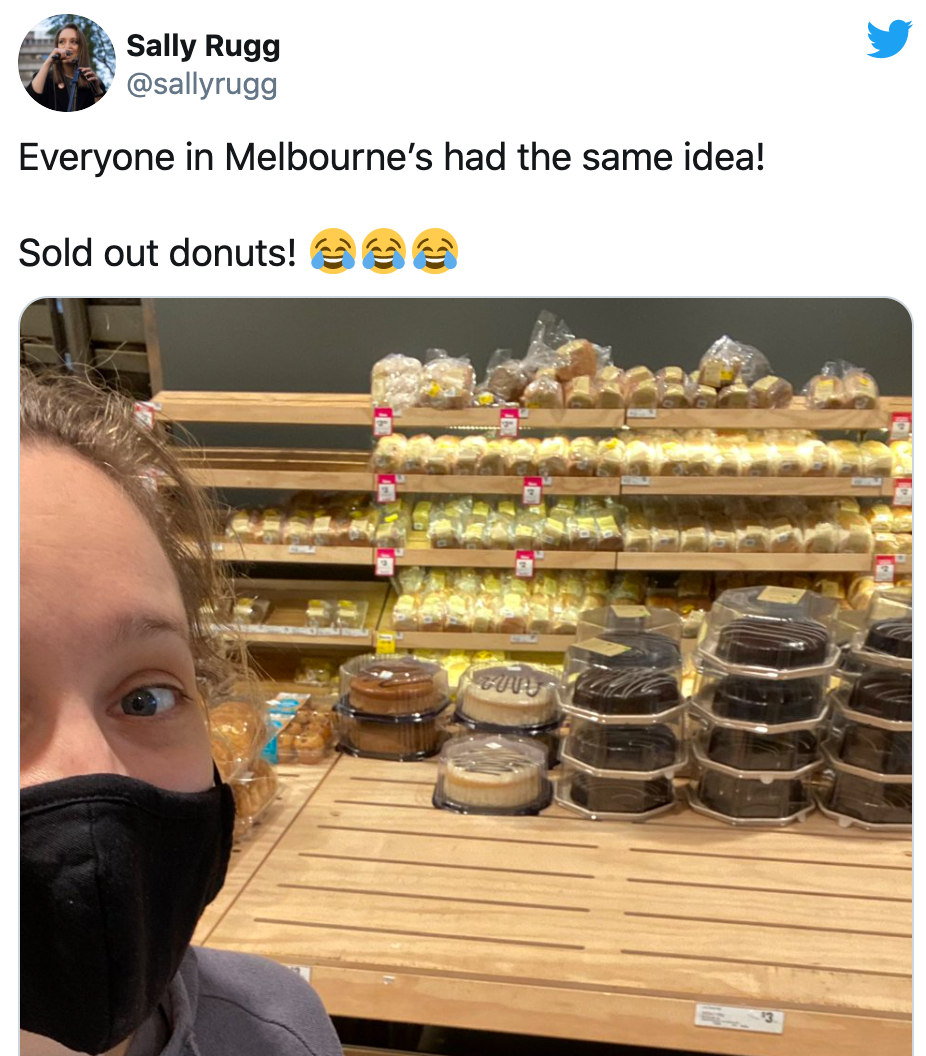 The way Australian netizens celebrate is really mind-blowing

01The Melbourne area has been postponed to unblock. From the prime minister to small business owners, they all expressed dissatisfaction!Morrison: You are not good at it!
Congratulations on Victoria's achievement of double zero today!But for the extensionAll parties continue to "fire" the governor
Morrison: "Deeply disappointed", you are not capable!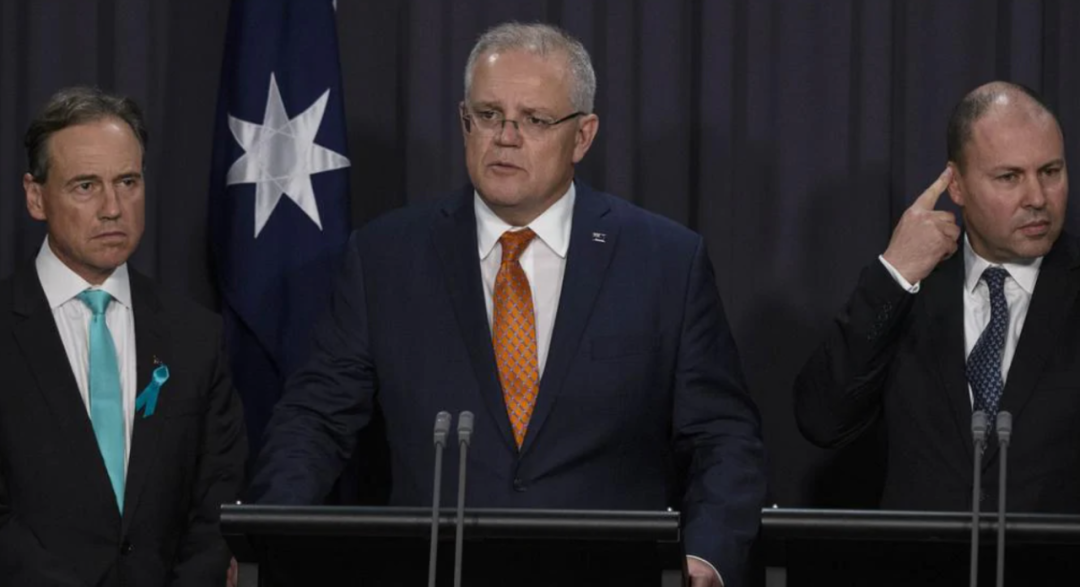 Yesterday, the Governor of Victoria, Daniel Andrews, announced that the unblocking process has been suspended.


In response, in a statement jointly issued with Federal Treasury Secretary Josh Frydenberg and Health Minister Greg Hunt, Morrison stated that Victoria did not open as scheduled.Shows that Andrews has no confidence in the state's tracking system.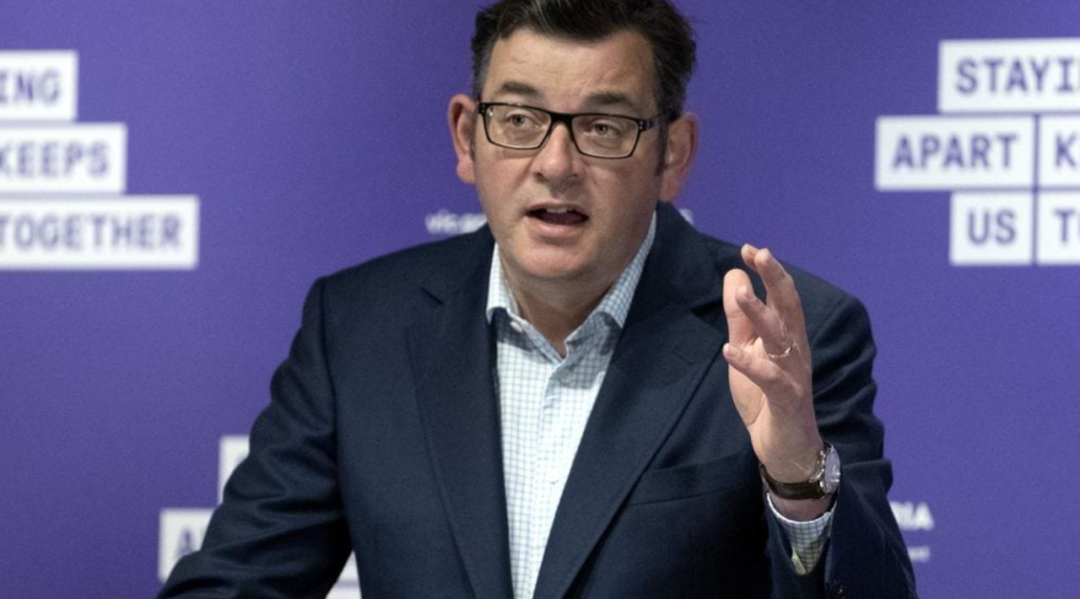 The statement reads: "Victoria's public health system is either capable of handling future epidemics, or it cannot. The decision to keep businesses closed now shows that there is not enough confidence within the Victorian government that their system can Support for reopening is deeply disappointing."


A senior member of the federal government said,It is time for Victoria to "look ahead".The statement said: "Victoria must move forward to make your public health system work, restore jobs that have been lost, and save the livelihood and peace of many Victorians."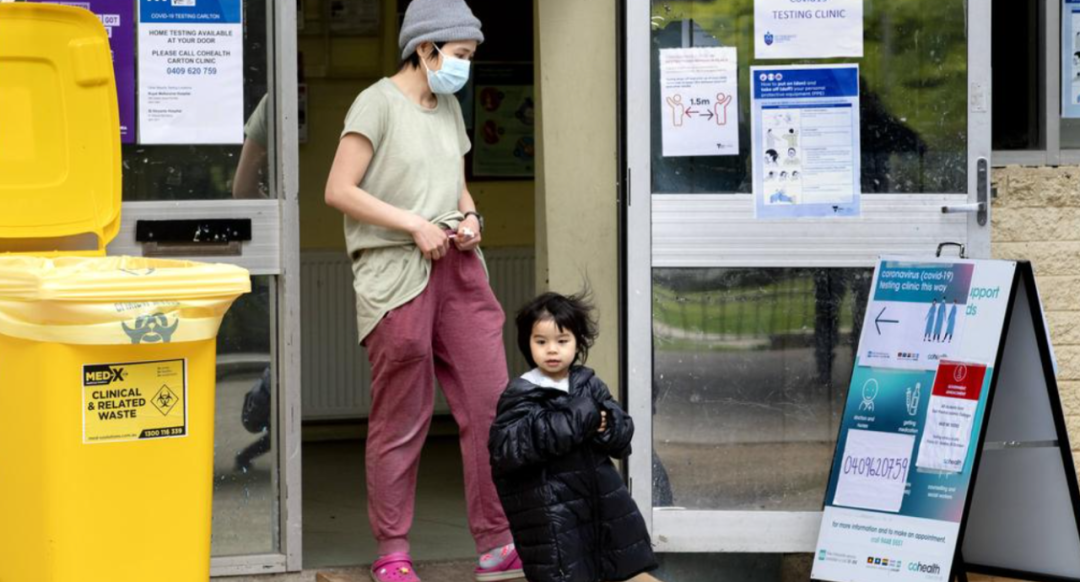 As Victorians serving in the federal government, both Frydenberg and HuntIt is strongly advocated that Victoria should open faster than expected.


At the cabinet meeting on Friday, the Governor of Victoria agreed to a new national reopening framework, but Morrison now believes that many companies may not survive until Christmas.He hopes that Victoria will be unblocked as soon as possible and that it should be consistent with NSW.


In response, the Victorian government responded that they have greatly improved their tracking capabilities to deal with any future outbreaks.


Catering business owner: $4000 prepared ingredients are all discarded!
Melbourne catering industry angrily criticized the Victorian government's decision to suspend unblocking, saying


This is a betrayal!

Wes Lambert, president of Restaurant & Catering Australia, said that the postponement was "a betrayal of the entire Victorian hospitality industry".


"We feel like a blow out now!" Lambert said, the hospitality industry has lost patience. "What patience? It has been polished long ago.
Peter Strong, President of the Council of Small Business of Australia (Council of Small Business of Australia) said,The roadmap suggests that as long as the average number of cases per day for 14 days is less than 5, it can be opened from October 10.


"Businesses and people have worked hard. By this day, the health standards have been met.But it did not reopen!This is the destruction of social integrity. "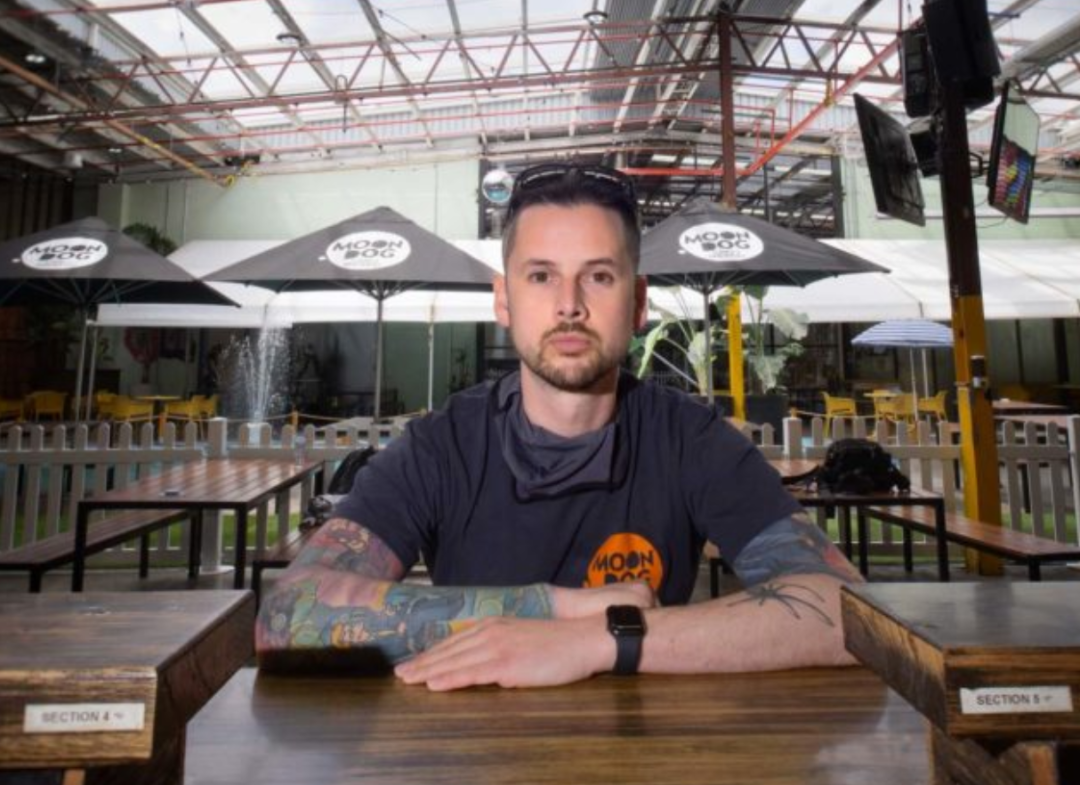 The staff of the Moon Dog brewery, which has operations in Preston and Abbotsford, said that the suspension and unblocking did not affect their efforts to reopen on November 11.


But the delay in releasing further announcements was a blow to the cafe owner Syed Ahmed. He said he
Had to buy fresh ingredients worth up to 4000 Australian dollars
Throw it all away or donate it!


He purchased fruits, vegetables, and meat in advance, and looked forward to his reopening of Humble Harry's Cafe in Broadmeadows in the middle of this week.
"I'm sad," he said, "all my emotions are numb. I think I am a very strong person in spirit, but now I feel enough."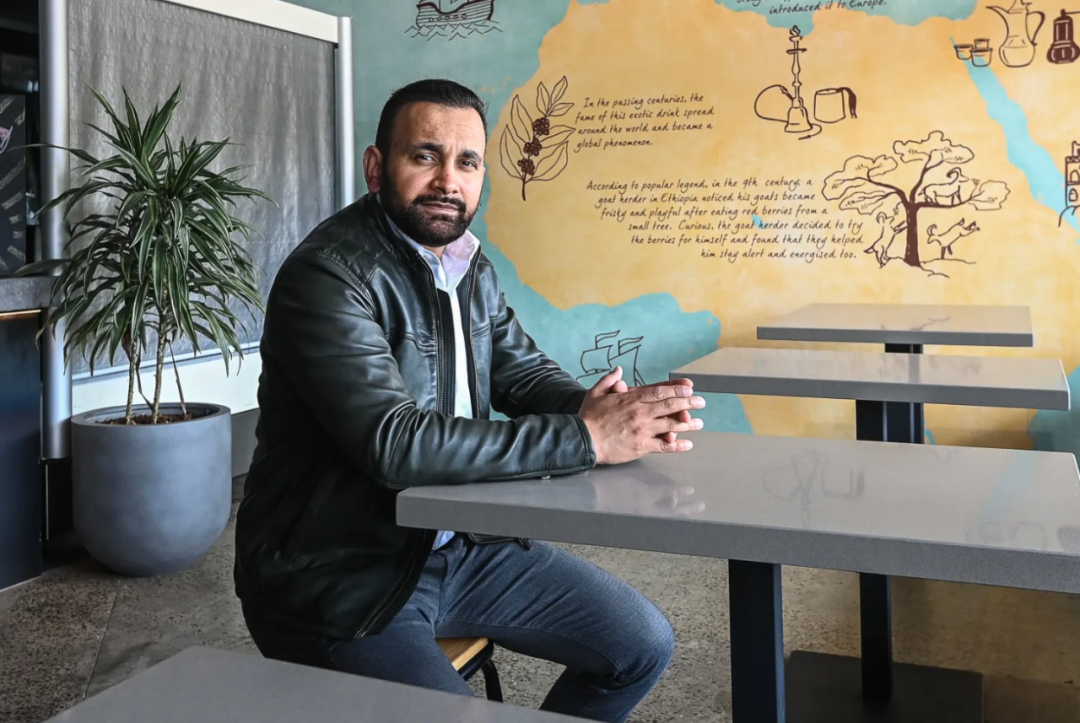 Although the governor stated clearly that restrictions on the hotel industry and retail industry may still be relaxed in the middle of this week, Ahmed does not believe it.


He said that the cafe needs three days to prepare for the opening, and his chef has already begun to plan the menu.


"For the hospitality industry, guessing games don't work," he said. "We need to know the exact date so that we can stock up in advance, All the ingredients are easily spoiled.


Ahmed's cafe is right next to Broadmeadows train station.Due to the reduction in the number of commuters due to the epidemic, local offices were also closed, and business fell by 80%.
Australian media: "The joke is a bit too much"
On social media, Australian media and politicians have also "fired" on the "Governor":

Channel 10 reporter Emma O'Sullivan posted on social media: "The restrictions in Melbourne's urban area will remain. This is a serious blow to people. This year is not over yet."



Channel 7 reporter Joel Crean posted: "This is not a joke. The government told us last Sunday that the restrictions will be relaxed on November 11. We were told this Wednesday that this date will be advanced. Judging from today's announcement, this is all We have had enough of bad checks."




Former Green Party Senator Scott Ludlam wrote: "Dear Melbourne, hold on, you are about to defeat the virus."
Former Victorian Health Minister Jenny Mikakos also said on Twitter that she is "very proud" of what Victorians have achieved, adding that some people think the roadmap for unblocking is "unachievable".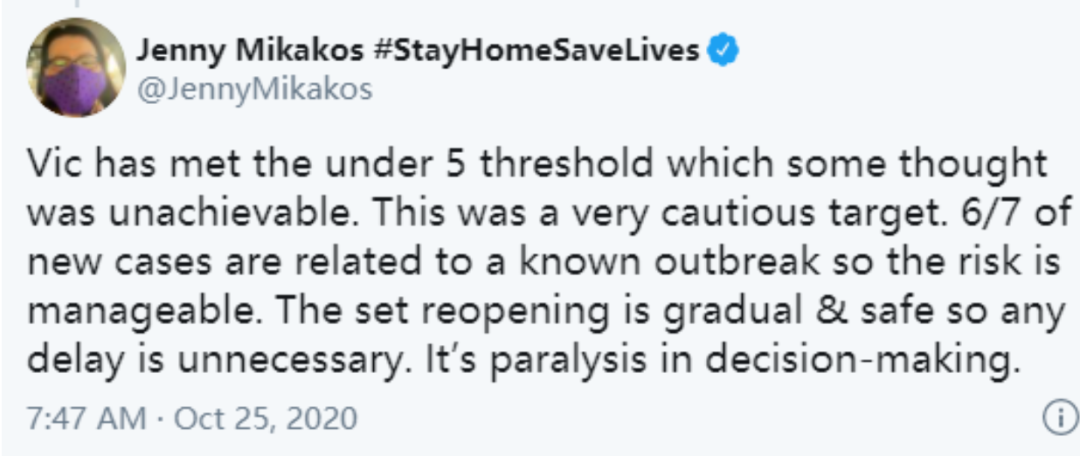 She said, "The route is gradually and safely opened, so any delay is not necessary. This is a paralysis in decision-making."


What do you think of Victoria's postponement?
Leave a comment and tell us what you think.
At the same time, many Victorians affirmed and agreed with the Andrew government's postponement of the unblocking move, believing that only a more cautious way to maintain the lockdown according to the needs of the epidemic can achieve a true victory in the Victorian epidemic.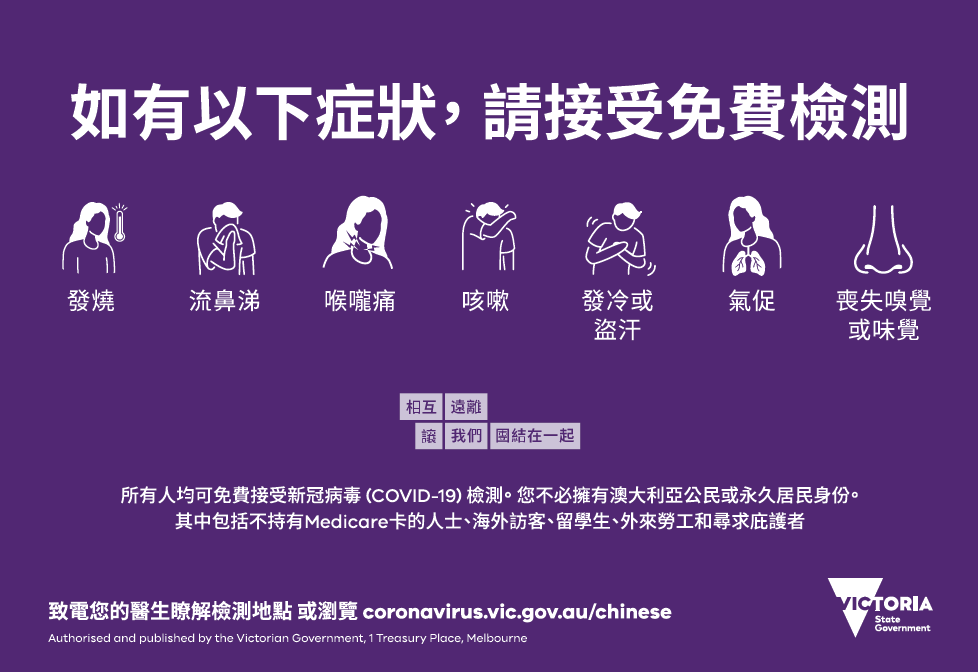 02Reverse!The Oxford vaccine is "perfect"!Tens of millions of doses have been booked in Australia!The Federal Minister of Industry poured cold water: It will take at least nine months before Australians are vaccinated!
Let's take a look at the vaccine...


Great news for the British "Oxford-AstraZeneca" new crown vaccine!


According to a number of British media reports, a recent study led by the University of Bristol in the United Kingdom showed:


The effect of Oxford vaccine is perfect!
Can strongly stimulate the immunity of the vaccinators against the virus!

The official website of the University of Oxford also released the news in a low-key manner: Independent scientific research shows that the effect of the vaccine completely "follows genetic instructions" and stimulates a strong immune response, which is in line with previous expectations and has been confirmed by the latest Bristol study.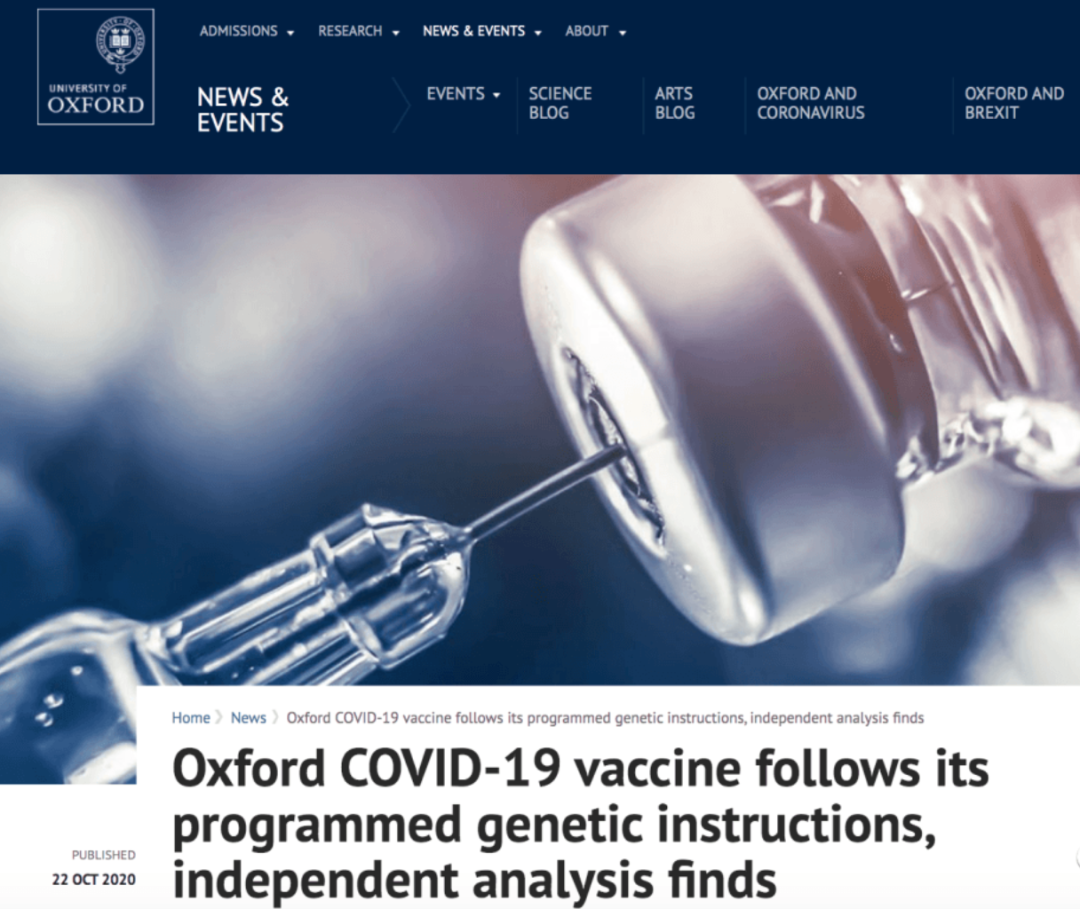 Professor David Matthews, who led the study, said: "Previously, the Oxford vaccine technology has never provided such a strong and clear answer, but through this experiment we found that the effect of this vaccine is exactly in line with our expectations. Very exciting good news."
However, the news about Oxford vaccines can be described as twists and turns.


A few days ago, Australia.net reported to everyone the news about the death of Oxford vaccine volunteers:



(Click to view the original link)
However, more details were later disclosed by the media. According to the Brazilian newspaper "O Globo", the volunteer was given a placebo (control group) and was injected with meningitis vaccine instead of the test group vaccine; the cause of death was He was infected with the new crown while working as a doctor.


This official statement is also a relief for many people...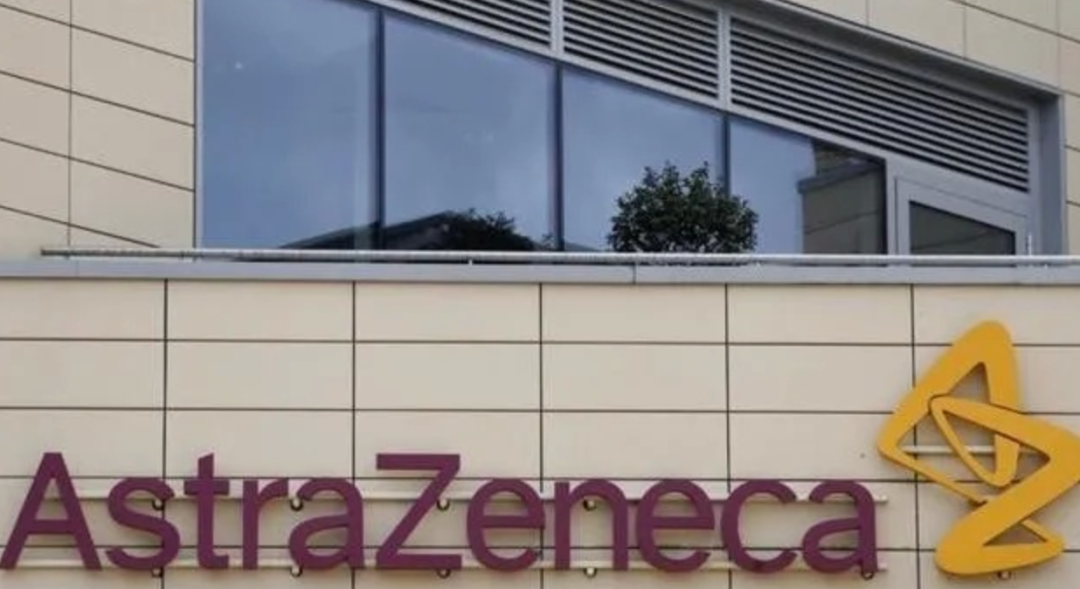 At present, Australian Health Minister Greg Hunt previously stated that the federal government has signed vaccine order agreements with the University of Queensland and Oxford University for 5100 million doses and 3380 million doses respectively.
When can Australians get the new crown vaccine?
In response, News Corp Australia reported that the Federal Minister of Industry Karen Andrews said,


It is now before the launch of the new crown vaccine
It will take at least 9 months

While participating in the ABC current political program "Insiders", Andrew said that there may be 9 to 12 months before the new crown vaccine is approved, produced and put into use.
Andrews said that the Australian Commonwealth Science and Industry Organization (CSIRO) and the pharmaceutical company CSL are ready to produce protein-based vaccines at any time, but non-protein vaccines will take longer.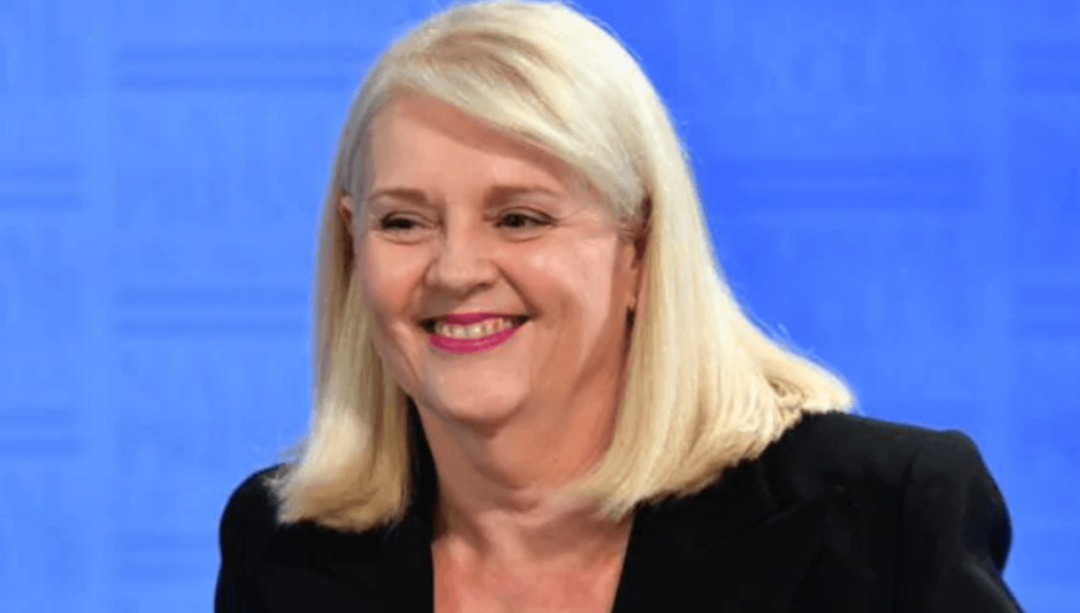 Oxford AstraZeneca is co-developing a protein vaccine, but there are also multiple trials on non-protein vaccines, which have never been promoted globally before.


"I hope it can be completed in 9-12 months, but I think everyone needs to understand that as far as vaccines are concerned, there are many variables."


"There is no vaccine that has been proven to be available. I know that everyone hopes that I can clearly state the time of the new crown vaccination, but I think no one can answer this question."
03 Summary
As for when Melbourne will be unblocked, we will only wait for the answer on Tuesday.Today, we still have to abide by the existing regulations and must avoid the recurrence and spread of similar incidents in Melbourne's North District.
At the same time, I look forward to further good news about Oxford vaccines!I hope that the epidemic will pass as soon as possible, and I hope everyone is safe.
Epidemic data (as of 10:26 on July 11)

Total cumulative diagnoses worldwide: 42999047
Global total cumulative cure: 27870221
Total global cumulative deaths: 1154158
The total number of confirmed diagnoses in Australia: 27520
Australia cumulative cure: 25190
Cumulative deaths in Australia: 905
Active cases in Australia: 226

NSW 4386; Victoria 20342; Queensland 1167;
Western Australia 760; South Australia 491; Tazhou 230;

Headland 114; Northern Territory 33;
Existing diagnoses worldwide: 13974668
Existing confirmed diagnoses in Mainland China: 450